This post may contain affiliate links.
Thank you Gallery for sponsoring this post. Stay stylish and cozy in a new Gallery jacket this winter!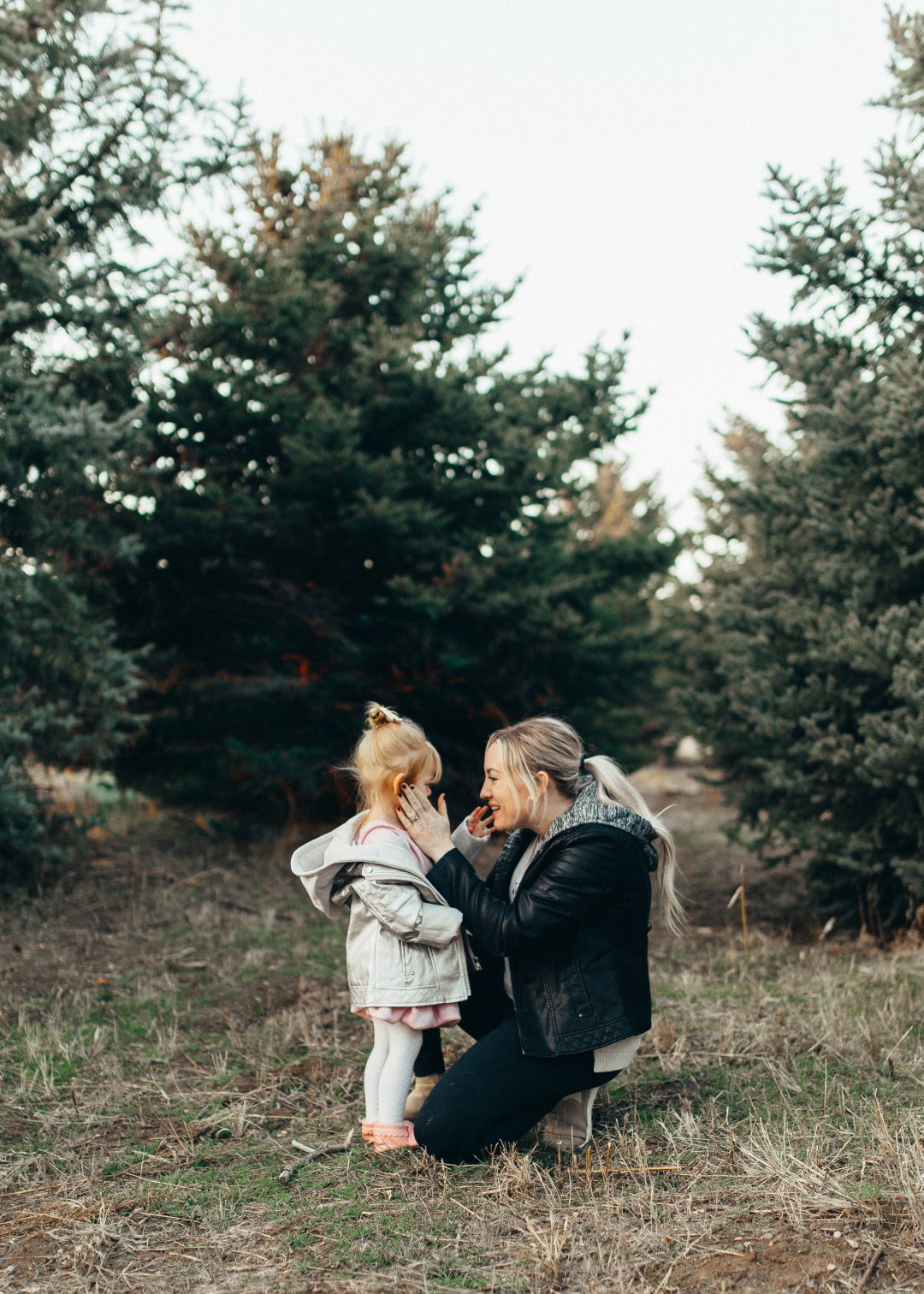 Shop this picture:
This post has so many pictures, but I really don't even care because well…I'm just obsessed with them all. Blake was being so sweet and I was just chill and laid back while Marcus shot these pictures and they're some of my favorites. I love that he shot all the little in between moments of us talking, me fixing her hair, us running around — rather than the posed stuff because now I am literally ordering them on another tab to hang up in our new house. Also it's just always a good day when we can capture images like this with products we love.
Friday night I took a much needed little break from well, reality honestly, from social media and from things that just honestly in the scheme of things – don't matter. We built a Gingerbread house, we went outside and walked around and then we watched movies and stayed up way too late. It was perfect and it was just what my heart needed. I get busy most days, like really busy and then before I know it I am on overdrive, my anxiety is super high and the second I log onto social media it's like my mood just plummets because I start the comparison game. Honestly, it's hard not to play that game…it's hard not to be jealous (yeah, I said the word), to get angry, to feel insecure and to wonder what the heck you're even doing with your life? Especially this time of year. This time of year is the HARDEST for me and my mental state. So I HAVE to get outside, I have to spend time with my people often and I have to do things to keep my mind clear. I've really been trying to not only work out this year (because that's like a game changer for me mentally), but to also step outside any chance that I get.
So I was really excited to team up with Gallery Jackets because that meant we got to go somewhere fun, OUTDOORS, take pictures and just spend time together. That's one of the perks to the job 😉 I mean, don't get me wrong there are quite a few, there's also a lot of downfalls, but the opportunity to turn pictures and collaborations into pure family time is incredible. It didn't always used to be like that though, I used to treat it strictly like work, get things done and keep it as organized as possible (obviously still with brands I really loved), but over the last year I changed my outlook a little bit. I mean, why not have some friggin' fun while doing these things?! So I do just that (I should say attempt, doesn't always go as planned), but this time was perfect. We walked through these huge (and I mean HUGE) pine trees that we found randomly just on a hidden road. Blake had fallen asleep in the car, so I picked her up slowly out of her car seat and Marcus help me put her jacket on (which seriously is THE CUTEST). Then we just looked around for a few minutes, him and I talked and we waited a bit for her to wake up. Trust me — it's better that way, we want a happy toddler!
When she woke up she immediately wanted to hug and snuggle for a few minutes, which is my favorite part about when she just wakes up. Then she saw that her new jacket was on and all focus was on that. She's definitely my child and cracks me up when it comes to "fashion" if you will. She's very independent, loves to get all dressed up and try on new things and is a BIG fan of all clothing that has a little shine or sparkle 😉 AKA: this jacket. We talked about that for about 5 minutes, HA! Then we chased each other around, she showed us her "big jumps" over sticks and we just kept it light and perfect. That's how I want all the moments to be, keep dreamin' right? 😉
Now, the jackets though – guys, they're incredible. We both have them on from Gallery Jackets, so we're twinnin' a bit and that's my favorite part…gotta keep that going as long as I can! Since 1965, Gallery has embodied the spirit of timeless elegance and has established itself as a premier outerwear manufacturer of classically tailored and casual weekend outerwear. Their quality is on point (meaning it's going to last!), the comfort perfect and well they have so many cute styles and pieces to choose from! You can check out their selection, here or mine, here and Blake's, here.
I was selected for this opportunity as a member of CLEVER and the content and opinions expressed here are all my own.