This post may contain affiliate links.
At our last house we had garden shelving outdoors that I just loved. I put succulents all over them (because it's the only plant that I don't kill) and it was just about my favorite part of my backyard. So when we started building this one – that was something I dreamt about putting on our patio again! So I thought it would be fun to share the full how to with y'all. It's super easy to do, but adds so much character to a patio or outdoor area, especially by a seating area as pictured! I just grabbed everything in one place at Lowe's and got to work, all for a really good price!
Here's what you're going to need:
3 pieces of 4ft pressure treated lumber (for the shelves)
6 Metal Brackets
36 – size #10 1 1/2 screws
Drill
Tape Measurer
Stud Finder
24 clay pots
24 succulents
Steps:
Start by measuring the space you're going to hang the shelves, this will determine too if you need to make your shelving shorter than mine are. Make marks on the wall where you want the edges to hit on both sides and start mapping it out.
Next, take your stud finder and find the studs in the walls, then make marks for those.
Start by screwing the brackets into the studs (keeping it even on both sides – you'll need to measure in from the mark for the end of the shelf to ensure they're both even on both sides).
Then you'll take your first shelf and screw it into the brackets that you just hung on the wall.
Repeat steps 2-4 for the next two shelves.
Once your shelves are up, the fun part begins – you get to start planting your succulents and planning them out how you want them to lay on each shelf. (This is my favorite part)
I actually made it super easy to just shop the entire product right on Lowes.com, just click the tags below in the picture!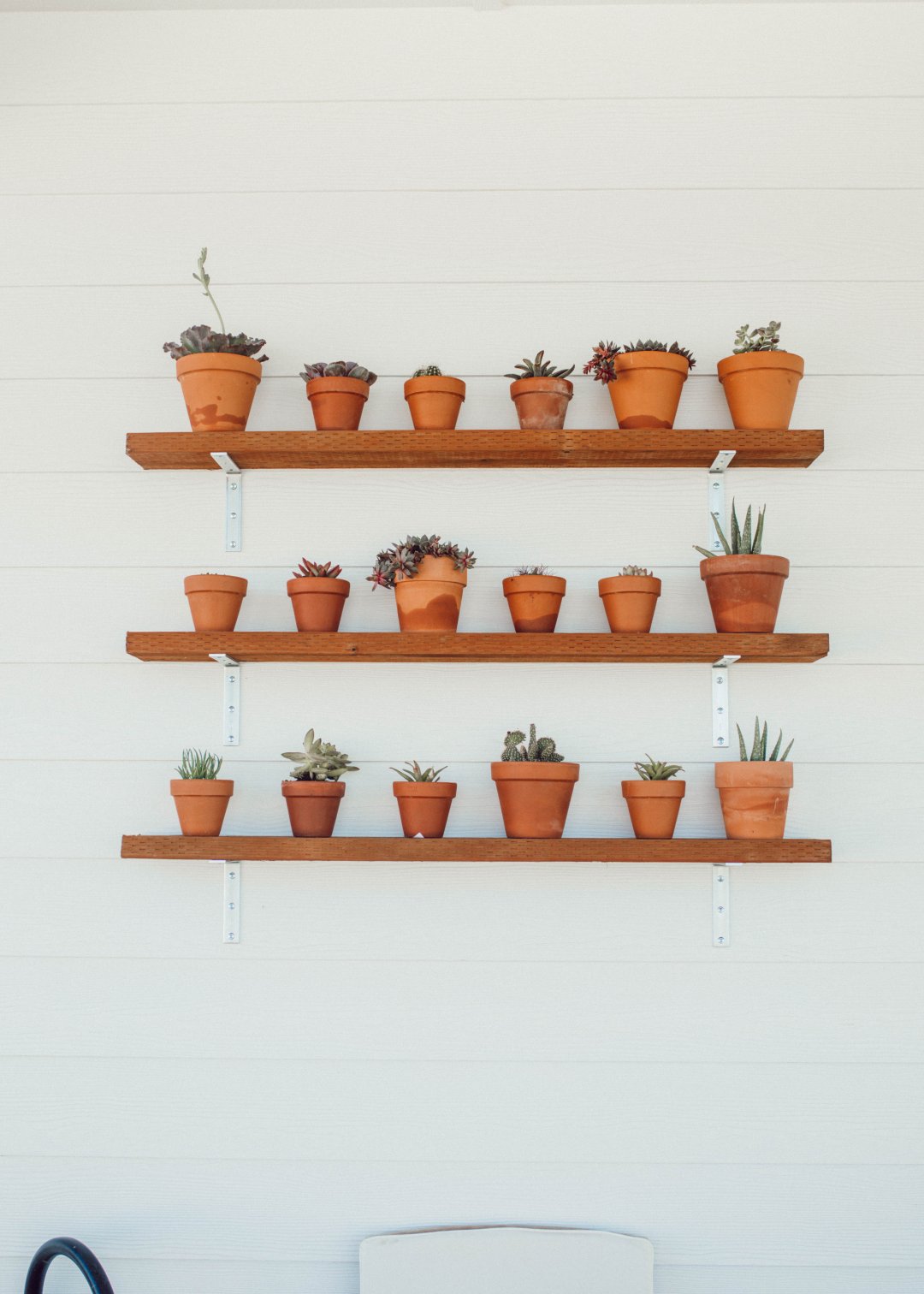 Then you're done! Easy as that and such a fun way to spice up your backyard. Plus – succulents are basically the easiest plant to take care of and welp, I'm all about that life people.
BEFORE & AFTER
Ensure your shelves are hung properly. We are not responsible for any accidents within this project.
---