This post may contain affiliate links.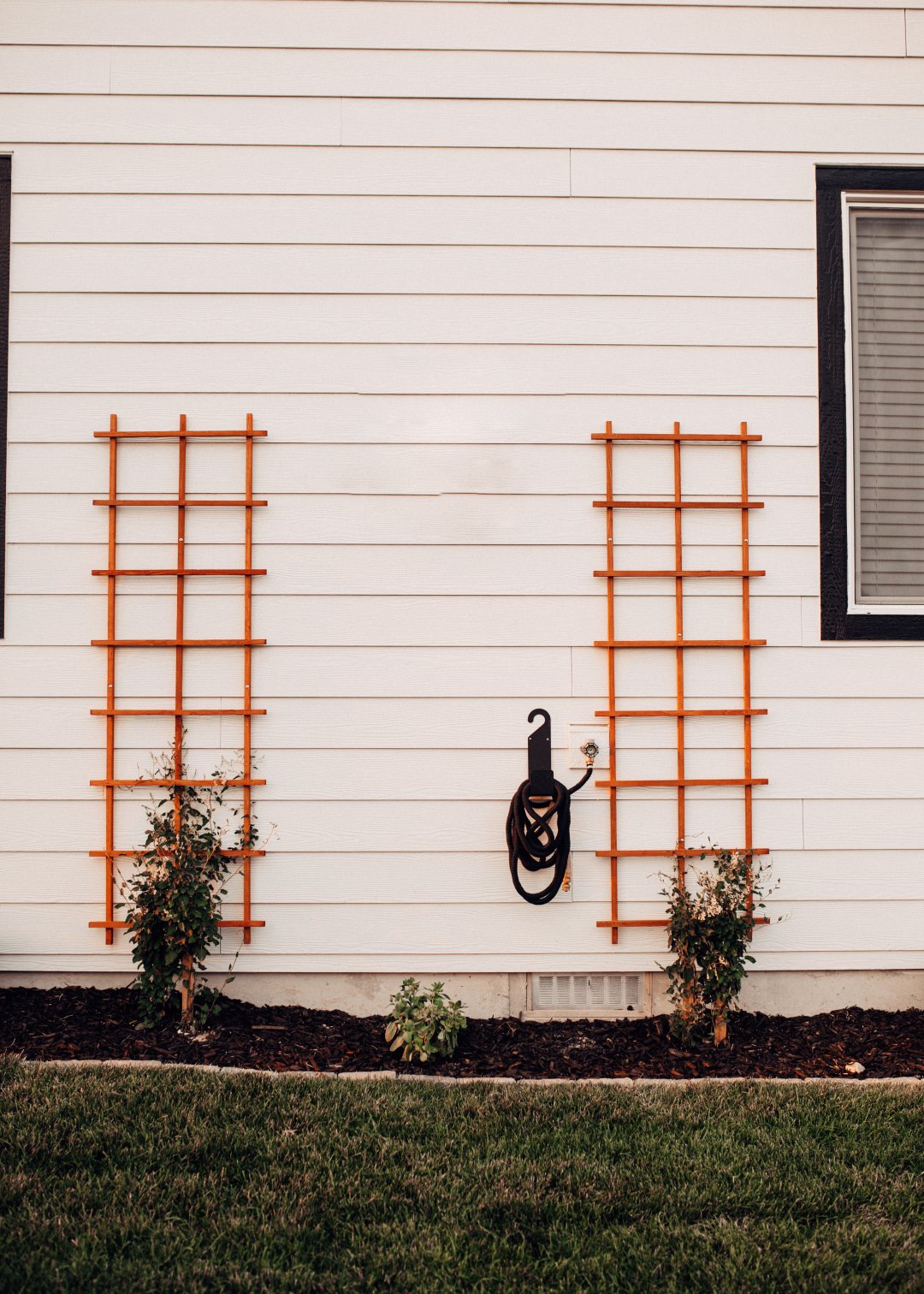 You know the house on Pinterest that's white with ivy all up the sides and it looks like this little cottage? Yeah, I want that house. 😉 So naturally I am working on making my dreams come true with vines up the back of our house, HA! I teamed up with Lowe's to do this project and I LOVE how it turned out. I wish the vines would get growing a little bit faster, but that little guy on the left is really going! The whole DIY was super easy. I had my Dad help me just because well, he was a contractor forever and since it was on my siding and my house I wanted to ensure it was done correctly.
Here's what you're going to need (and I linked everything in the picture above too):
Drill
1″ screws
2 trellis'
Vine plant (of your choice, ivy, vine, whatever you want – but do your homework)
Potting Soil
The Steps:
Since you are drilling into siding it can be a little tougher, so make sure you research whatever you're drilling into and use a stud finder or change your screws if you are working with different materials. Researching and doing your homework on this part is crucial.
Plan out where you want to hang them, then pencil the top so you can line it up. We have the hose right there and then they're between two windows so we had to measure all that to ensure they were centered and leveled.
Once you have that all marked, have one person hold it up while the other screws it in. We did screws in a "T" so one at the top, bottom, then both sides and it holds really well.
Next is the planting part, I recommend asking your local Lowe's what vine they recommend for your area of the house (is it sunny, shady, etc.) That way you can get the best plant for that area and it'll hopefully thrive! You'll mix potting soil into the dirt where you're planting to help it out a little!
After you get the plants planted in right under the trellis' then if you have any vines long enough to reach, wrap them around the trellis to start that effect! You'll probably have to do this for several months while it grows to guide it in the path you want!
Then you have the finished project like this:
This post was in partnership with Lowe's.