This post may contain affiliate links.
It feels so good to say that our backyard is basically DONE! It was something that I wanted done quickly after moving in, since we are in the middle of summer and I knew we would be out there a lot, but welp, it takes time. BUT we are done! There's a few random things I want to do here and there, but nothing crazy and I'm so excited that we can hang out, out there, I can watch Blake play and it just feels like home.
So we hired out a few things in our yard, like concrete and sprinklers – but everything else we did! I'm all about saving money where I can, so we did just that. We teamed up with Lowe's on our grass and I thought it would be fun to show the progress and give a quick DIY on installing your own grass. It's totally doable and saves a ton of money. SO here's what you're going to need:
**TIP: I recommend planning out your backyard and marking things off before starting this.
Landscaping rake
Sod (in the square footage you'll need)
Top Soil
Cutting Tool (either a box knife or curved to cut sod)
Wheelbarrel (to carry sod to back)
The how to:
First, if you're having sprinklers installed do this first.
Next, start by raking out the area that you'll be laying the sod. Remove all the larger rocks, flatten it out and get it ready to put top soil on.
Once you have it pretty even and the large rocks removed, you'll want to lay the top soil. Depending on how thick you want it, you'll spread it out according to that.
Once the top soil is on top, then you'll take that landscape rake again and make sure it's super flat and there aren't any bumps or rocks.
Next is the sod installation. Start from the further most corner and you're going to want to brick lay it long ways against the house.
Continue from the corner out, using your cutting tool to cut (on the back side of the side) as you go to fill the entire area. Cutting out the sprinkler head areas and any spots where plants or bark will be.
Once you're finished – make sure your sprinklers are up and running and set them to the appropriate time for your area.
This video shows a little behind the scenes peek:
That's it! It's a lot of work, so I recommend getting some help, but it saves a whole bunch of money and make the entire process a little better! I can't recommend the sod from Lowe's enough, I ordered this one, here and it's been the most incredible grass – seriously has grown so well and is so green. You can shop this image here too with everything we used: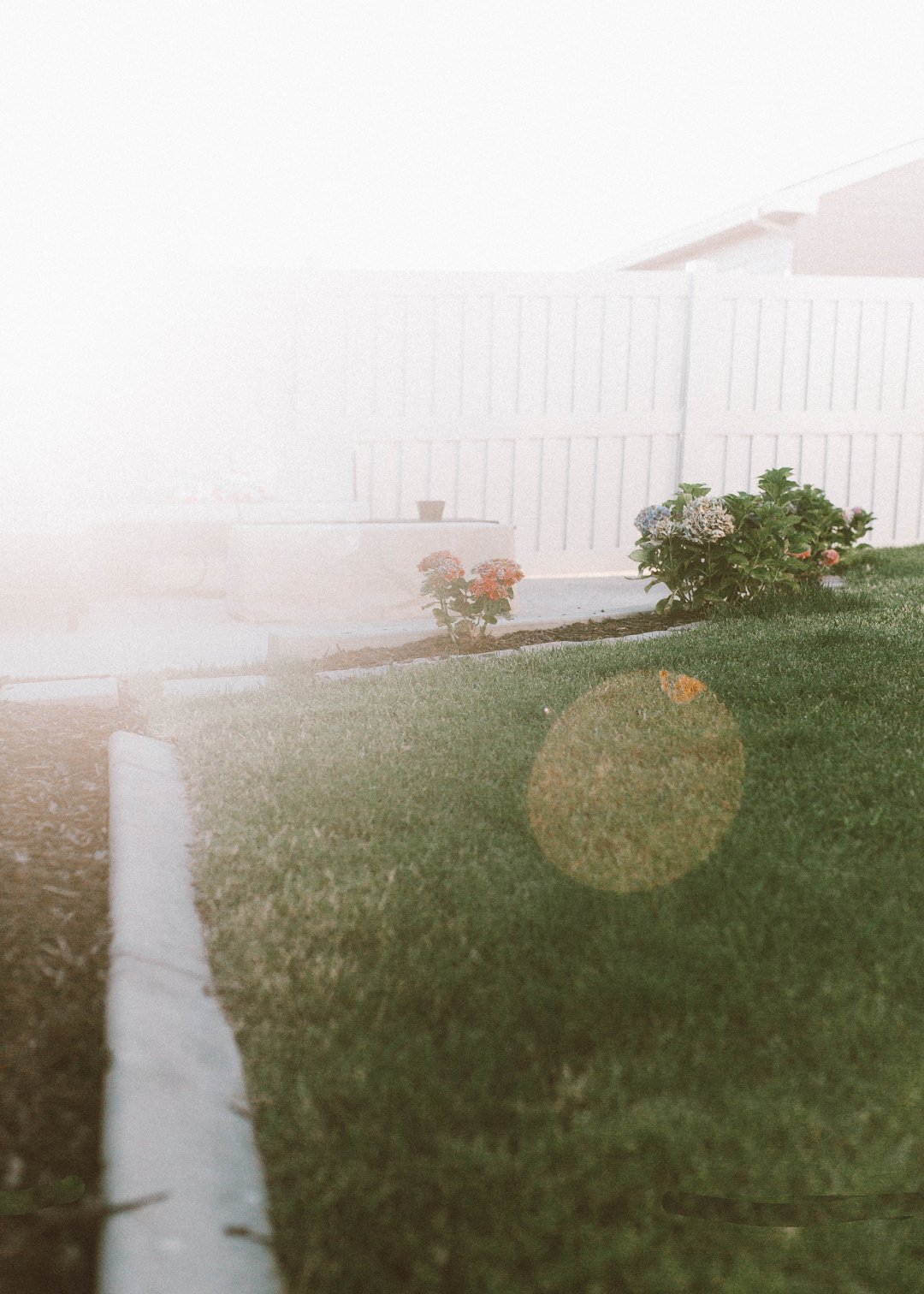 ---